On March 3, 2016 by Sarah
It's that time again…time to confess!
— Max has 1 of 3 breakfast options each morning: Cheerios and banana, toast with a fruit and yogurt/applesauce/black beans (black beans for breakfast? yup!), or blueberry waffle slathered with Nutella.  I confess that last week I put the waffle in the toaster but accidentally never toasted it!  Once I noticed, it was too late (Nutella is dang expensive, y'all!)  So yes…I served my child a slightly still frozen waffle slathered with Nutella.  Ha!  And guess what?  He didn't even notice.  #becauseNutella
— I have had a new phone since February 19th and have yet to touch it, activate it, etc. I'm overwhelmed by the process and am afraid I'm going to lose everything.  HELP!
— I have been DREADING March's arrival.  This is the month that I go back to work…and the anxiety is real.  I will not spend these days in worry.  I will not spend these days in worry.   I will not spend these days in worry…
— We've just spent a pretty penny on a platform bed.  It'll be a couple of weeks before all of the pieces come together.  I confess…I am worried I'll feel like we're camping.  I am already used to being so close to the floor (ahem 4'11")!  Since our mattress is older than my and Scott's relationship and we are upgrading to a King-sized bed, I can't imagine that we'll be disappointed.  Still a little worried, though!  Who has a platform bed and loves it?!
— THIS IS SO ME!
I'm afraid "three days" is being awfully generous.
— In the next 6 months, I will be seeing my 2 absolute favorite bands and I couldn't be more excited!  Zac Brown Band and The Dixie Chicks – woohoo!
–Max says the cutest things!  Two recent examples:
When we were on our second round of Candyland – "I'm sick from this!" for "I'm sick of this!"
While coming up with reasons to push back bedtime – "But I wanna steal bedtime!" for "But I wanna stall bedtime!"
He's a character – haha!
— While furniture shopping recently, the sweet saleswoman had on the STRONGEST perfume.  It smelled nice, but was so incredibly potent.  The next day, the paperwork that she gave us smelled like her and so did our car.  Crazy!  Do you think this is a sales tactic?  So that we'd think of her…and therefore the furniture…the next day?  Sorta genius, really, but too TOO much!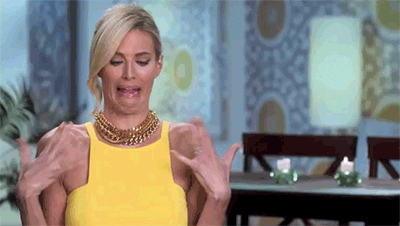 Man, I'm loving doing these things!!!
Check back tomorrow for a cute post, starring Leo James! :)