On February 18, 2016 by Sarah
I've been wanting to write a weekly post, including all the randomness that life offers.  Jess over at The Newly has recently started a link up and I am SO in!  I've been following Jess's blog since 2011/2012ish.  She has 2 beautiful children and has done a much better job keeping up with her blog while juggling life than I.  Total mom crush ;)
So bear with me peeps, as I am a link up virgin.  Who knows if I'm even going to do this right.
Without further ado, Confessional Thursday…
I Confess…
— I mistakenly ordered the wrong mascara online.  Total fail.  If you want mascara to stay on forever-until-the-end-of-time-Amen, order this stuff…
I always get waterproof mascara, but this stuff is no joke.
Don't mind me.  I'll be in the bathroom repeatedly rubbing my brittle eyelashes with loads of eye makeup remover until my vision goes blurry.  #thepriceofbeauty
— This shirt.  Is hilarious.  And so me (in the summertime).  Want.  HA!
— I have an internal struggle going on with Christmas cards…since, like, the year 2005.  Y'all, what do you do with yours?  Keep 'em from year to year (resulting in the need to rent a storage unit) or throw them out?  Does it depend?  I feel so guilty throwing them away but cannot.take.the.clutter lately.  HELP!  <Small townhouse and family of 4 problems.>
— We watch WAY too much TV in this house and I am not upset about it.  When I turn it off for the occasional dance party or quiet time, I miss it.  There, I said it.  
— In related news, I've been reading this book (a page at at time, ahem) since December.
Get it together, Trottier.  I like it and am into it.  I just suck at taking the time to relax and read.
— This weather forecast makes me do a happy dance!
We have some fun plans this weekend…and I may even convince Scott that we need a walk on the beach on Sunday!
— We just ordered a locally and custom-made farmhouse table and we could not be more excited.  Our current table is from our first apartment circa the year 2006 or so from…wait for it…K-Mart.  It's a high top table that we are so over.  It's time for our "family table."
Now we're on the hunt for the perfect chairs, that don't break the bank (yikes-they're expensive!).  We're looking for the tufted style.  Suggestions?  Target is always our go-to ;)
— Fitting into my pre-pregnancy jeans got me like…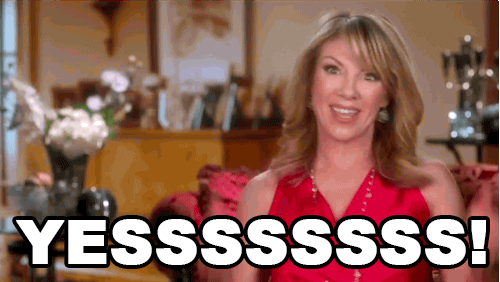 The muffin top it creates got me like…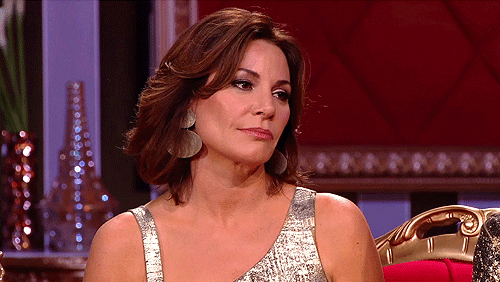 OMG-that was too much fun!  Can't wait to do this weekly!!!
Check back tomorrow for Leo's 2 mo update.  Promise!  It's already written (and spoiler alert: 75th percentile for weight!)!
XOXO